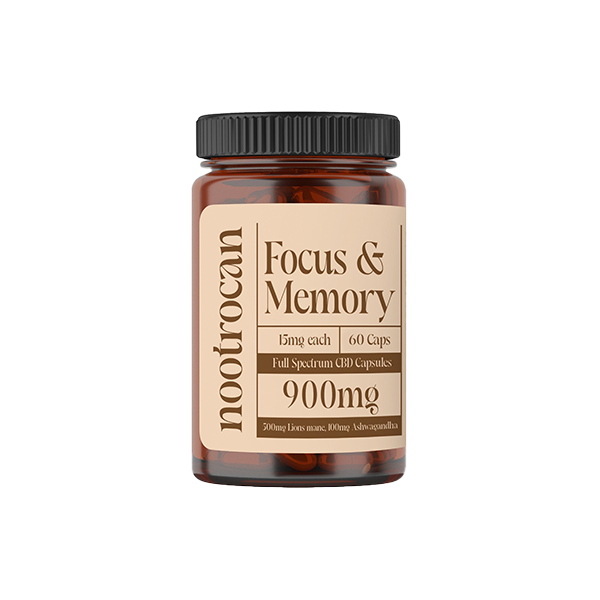 Novel Food application number: RP438
Extracted from organically US grown hemp, these Nootrocan 450mg Full Spectrum CBD Capsules altogether offer a convenient, alternative way to enjoy daily amounts of CBD than oils. As both a CBD infused and nootropic product, taking just one of these will provide you with cognitive enhancements to improve your memory, energy and awareness. With each capsule containing 15mg of CBD each, you will be able to experience the potency of the various compounds and cannabinoids found within this Full Spectrum CBD alongside the respective, naturally blended ingredients within each capsule flavour for you to enjoy the various health benefits. All Nootrocan CBD Capsules have been fully lab tested to fully ensure their potency, purity and safety of use to all consumers and are 100% vegan friendly.
450mg Full Spectrum CBD
30 Capsules
15mg CBD Per Capsule
Nootropic
Extracted From 100% USA Organic Hemp
Fully Lab-tested for Safety, Purity, and Potency
Vegan Friendly
Flavours:
Focus & Memory
Ingredients: Lions Mane, Ashwagandha, CBD.

Healthy Skin
Ingredients: Tremella, Collagen, CBD.

Plant Based Immunity
Ingredients: Chaga, Turmeric, CBD.

Plant Based Performance
Ingredients: Cordyceps, Gurana, CBD.

Plantioxidance
Ingredients: Turkey Tail, Gingseng, CBD.

Super Shroom Mix
Ingredients: Lions Mane, Reishi, Chaga, CBD.

THC content<0.2%
Shipping
All of our Shipping Options are weight based. We aim to get all orders placed before 3pm dispatched the same day (Monday-Friday), however, this is not always possible.

Please note that the delivery duration is calculated from the point of dispatch, rather than when the order was placed. Only the available shipping options for your order will be shown at the checkout.
Nootrocan 900mg Full Spectrum CBD Nootropic Capsules - 60 Caps