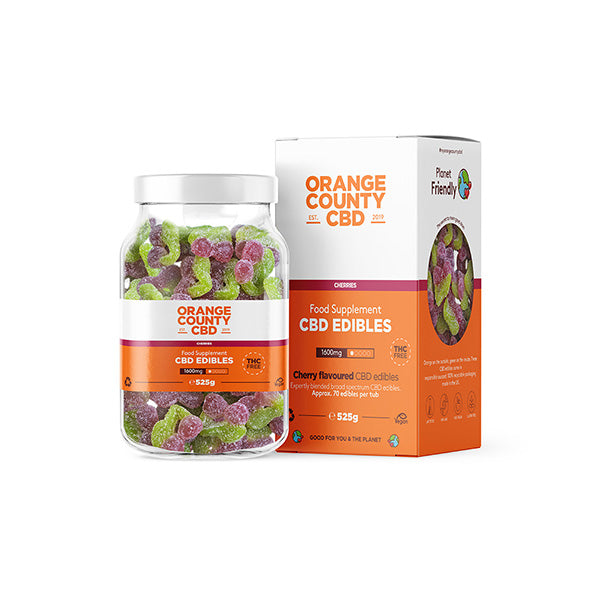 Orange County CBD is trusted by countless individuals internationally. From their roots in Northern California, they continually produce the highest quality CBD products on the market and maintain this standard across their full range of products. Produced in a certified, state of the art accredited facility while adhering to CTA guidelines, the results will speak for themselves.
The CBD itself is sourced from Orange County certified farms in the United States. Using an advanced solvent-free extraction method, Orange County CBD gummy bears are completely non-GMO and pesticide free, whilst still having that high level of quality that has won us such recognition from the CBD community. Being a broad spectrum CBD product, Orange County CBD gummy bears contain a range of naturally occurring cannabinoids to support the effects of the CBD. Notably these bears are entirely THC free, letting us ensure that your CBD experience is as good as it can possibly be.
- 1600mg CBD Per Pack
- Broad Spectrum CBD
- THC level<0.2%
CBD Gummy Cherries
Orange County don't mean to take the cake, but these might just be the cherry on top of it. Their CBD Gummy Cherries will give you a blast of CBD infused sweetness with a broad-spectrum boost that'll have you feeling cherry-bly good.
CBD Gummy Strawberries
Revive your childhood sweet tooth with a CBD twist. Orange County's award-winning CBD gummies are unrivalled, and their newest range of CBD Gummy Strawberries are no exception. Sweet and tangy with a sugary coating and all the goodness you expect CBD to bring. You'll not just be impressed… you'll be berry impressed.
CBD Gummy Bottles
Looking for a new CBD experience? Feel like you've lost the bottle? Don't worry, Orange County have found it for you. Their new broad spectrum CBD Gummy Bottles are fruity, delicious, and jam-packed with natural flavours. With enough broad-spectrum CBD to get you through the day and ease you into the night, They'll have you saying, "gummy some more". 
CBD Gummy Worms
Designed to bring the most out of these fruity flavours whilst avoiding all gluten and animal products, Orange County worms are eagerly enjoyed by a huge range of CBD enthusiasts nationwide. Coming with the choice of 1600mg, 3200mg or 4800mg of CBD in every tub, Orange County gummy worms are perfect as either your primary means of dosing your CBD, or as a way to stay discreetly topped-up throughout the day.
CBD Gummy Cubes
These CBD gummy cubes embody some of the very best traits of Orange County's CBD gummies range, offering you a mix of delicious flavours in a classic shape. If you're eager to try these sweets for the first time or just want to top-up your existing stockpile. These small tubs of CBD gummy cubes are one of the best ways to do it. With only the finest broad-spectrum CBD that makes it into these CBD gummy cubes, it will allow for each sweet to carry a powerful impact. Using a wide profile of cannabinoids that avoids THC in order to pack in even more CBD, this flawless combination is designed to give you the best experience possible.

CBD Gummy Bears
Orange County's CBD gummy bears are a classic cornerstone of our edibles range. They offer you their multi-award-winning broad spectrum CBD in the form of deliciously fruity gummy bears. Starting from a recipe developed to bring out their fruity flavour, we've also been able to ensure that our bears are gluten-free and vegan-friendly, giving even more CBD users access to this fantastic dosing method.
- Lab tested
- 0% THC
- Pesticide free
- GMP Certified
- Non-GMO
- Gluten-free
- Cruelty-free
- Vegan-friendly
Ingredients: Glucose Syrup, Sugar, Invert Sugar, Acid: Citric Acid, Malic Acid; Gelling Agent: Pectin; Humectant: Sorbitol; Fruit Juice Concentrate; Apple (1%); Acid Regulator: Trisodium Citrate, Natural Flavours: Cherry; Colours: Black Carrot Concentrate, Spirulina Concentrate, Turmeric, Broad Spectrum Hemp Extract.
ct.

Shipping
All of our Shipping Options are weight based. We aim to get all orders placed before 3pm dispatched the same day (Monday-Friday), however, this is not always possible.

Please note that the delivery duration is calculated from the point of dispatch, rather than when the order was placed. Only the available shipping options for your order will be shown at the checkout.
Orange County CBD 1600mg Gummies - Large Pack